Character slots are the hottest trend in the online gambling world right now. Major brands are eagerly lining up to add their name to the games as branded games have proved to be extremely popular with igamers.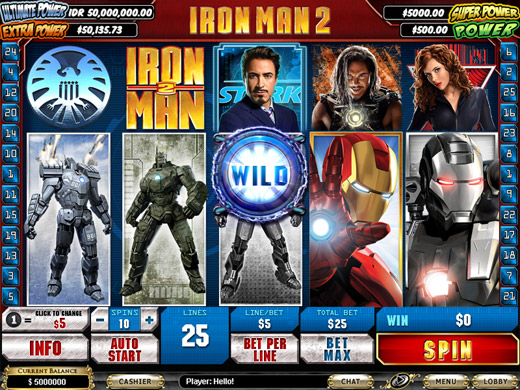 Playtech are the undisputed kings of the character slots world, developing masses of the most popular games, including a whole range of Marvel slots.
These, much like everything in the Marvel universe, are in high demand, with new feature packed games appearing pretty regularly over the past few years.
With that being said, here's our collection of the best Marvel slots that can be found online. They will be easy to find online, but if you get stuck, betfair casino's slot collection features them all.
Iron Man 2
After a successful outing with the first Iron Man slot, Playtech and Marvel teamed up again for an Iron Man 2 themed game. This improved upon the popularity of the first, featuring bigger and better gameplay. The game has 25 pay lines, an impressive bonus feature and huge freespin rewards. Although the Iron Man 3 slot has been rolled out, many players still think of this one as the biggest and the best.
The Avengers
The Avengers slot is as supersized as the movie it was designed to promote. Pulling in super heroes like Thor, Iron Man, Captain America and Hulk onto the reels is no mean feat. Each of these heroes have their own unique skills and talents, with this being translated to the game. The best feature of this game is the Wall of Heroes bonus mode which sees gamers having to match symbols of three heroes to trigger that hero's bonus mode. The Thor bonus mode is the best, as he randomly makes up to five wild symbols appear on the reels before each spin, making it possible to bag massive amounts of cash.
Fantastic Four
Much like The Avengers slot, the Fantastic Four slot has comprehensive bonus features that are unique to the four super heroes featured in the game: Mr Fantastic, The Invisible Woman, The Human Torch and The Thing. The biggest payout on this slot is 10,000x the initial line bet, which is pretty big. The min and max line bet value of the game cater to both high and low rollers, which makes it a great game to play for everyone.
Following Disney's acquisition of Marvel, it is thought Marvel slots may disappear. They certainly already have from physical video slots terminals, so it may only be a matter of time before the online versions are pulled, too. Be sure to make the most of them whilst you still can.